FINALLY, having the time to blog about my trip to Puglia with Ellie. As usual, I have been meaning to write as soon as I got back home but life got in the way and here I am, a month later. Better late than never, right?
The reason I wanted to write this blog post was due to the challenges of finding public transportation info, especially the Puglia bus portion, online. While we felt like we did quite a bit of research before the trip, we still had to do more than usual during the trip.
Ellie and I considered ourselves professional travelers and public transport in countries outside the UK and Germany aren't foreign to us. But we did find ourselves challenged during our Puglia trip when it came to trying to catch the bus from one town to another, in particular, Locorotondo to Ostuni.
Without further ado, here we go…
For this one week trip we chose this route: flying into Bari, and then on to Polignano A Mare, Locorotondo, Alberobello, Ostuni, Lecce and flying out of Brindisi. We stayed on night in each town/city except for Ostuni, where we stayed two nights, and Alberobello was a day trip from Locorotondo.
Ellie came from London-Stansted and I came from Frankfurt. While this itinerary is from Bari to Brindisi (the two main airports in Puglia), you can go the opposite direction if the timing of the flights and/or price are better for you. For us, after a few days of thinking, Bari to Brindisi was the best.
Bari
Bari is the capital of Puglia. A port town with a cute town centre that's worth at least half a day of exploring. The centre has many cute alleyways, a fabulous square with yummy gelato, and this round fried dough ball, Pettole, that's a must-try.
From London/Frankfurt, if booking in advance, one can easily find an inexpensive Ryanair flight for under 50 Pounds/Euro. When planning this trip, Ellie and I bought our tickets two months in advance and our tickets were around €75/rt each. The price included priority boarding.
Bari airport is small and about 11km from the town centre. From the airport, one can take the Ferrotramviaria train (€5, 13 min ride), a Terravision or Tempesta Autoservizi shuttle (€4, 30 min time), or the number 16 public bus (€1, 36 min ride but can take longer if the bus has to stop often to pick up passengers).
Which to take?
If cost is a factor, then you'd wait for the bus. But if it's all in the timing, then whichever gets you to the centre first.
Please click on the links above to see the timetables for each mode of transportation. When reading timetables, make sure that you are going the right way. For the train from the airport, you want to look at the Barletta Centrale to Bari Centrale, with the Aeroporto stop midway, schedule.
For my trip, I opted for the train. My flight arrived at 15:50 local time and my choices were.

Train: 16:12 and 17:15
Tempesta Autoservizi: 16:15 and 17:20
Terravision: 16:00 and 17:25
#16 bus: 16:35 and 17:25
The Train Experience
Because there was no passport check (Germany and Italy are Schengen countries, so no passport checks. But if you fly from the UK, there will be a passport check and in Ellie's experience, it took her about 15 minutes to get through that) and I also only had a carry-on, I was able to get to platform 1 at 16:06 and made the 16:12 train. I bought my train ticket online while I was walking.
There were a couple of ticket kiosks at the station and an attendant was there to help. It wasn't busy when I got there but I am one to always buy in advance when on a tight schedule. I also jogged a bit after the ticket kiosks because I was a bit nervous about catching the train. I wasn't sure how long the walk was. But, while it was a decent walk, I could have just walked and been there at 16:08.
Note on buying your train ticket online…
It took a few minutes (mine took less than five minutes) from when you submit your purchase to receiving the email with the QR code in it. You need the QR code to enter the platform. BUT, if for whatever reason the email doesn't come in quickly enough, speak to the attendant and s/he will help. My email did come in by the time I got to the platform but if not, I just had to ring for help at the entrance gate and the attendant will open the gate for you. If you are confident that you will be taking the train from the airport, you can purchase the ticket before your flight, the ticket is just a day ticket.
If the kids were with me, I may have gambled for the 16:12 train (cause my kids are older and by now they're semi-pro at bus/train chasing) or take the 16:15 Tempesta shuttle. The bus stop is closer to walk to than the train station and we would have comfortably made it there by 16:00. But if I was with younger kids and adamant about catching the train, I would have opted for the 17:15 train. Since I am never adamant about public transport, I would have just walked out and queued for the 16:15 shuttle.
If you arrive after midnight, taxi (about €20) is the only way to go. Some reputable taxi companies are Taxi Apulia, Radiotaxi and EuroTaxi.
Whichever your choice, all four public transport will bring you to Bari Centrale.
Polignano A Mare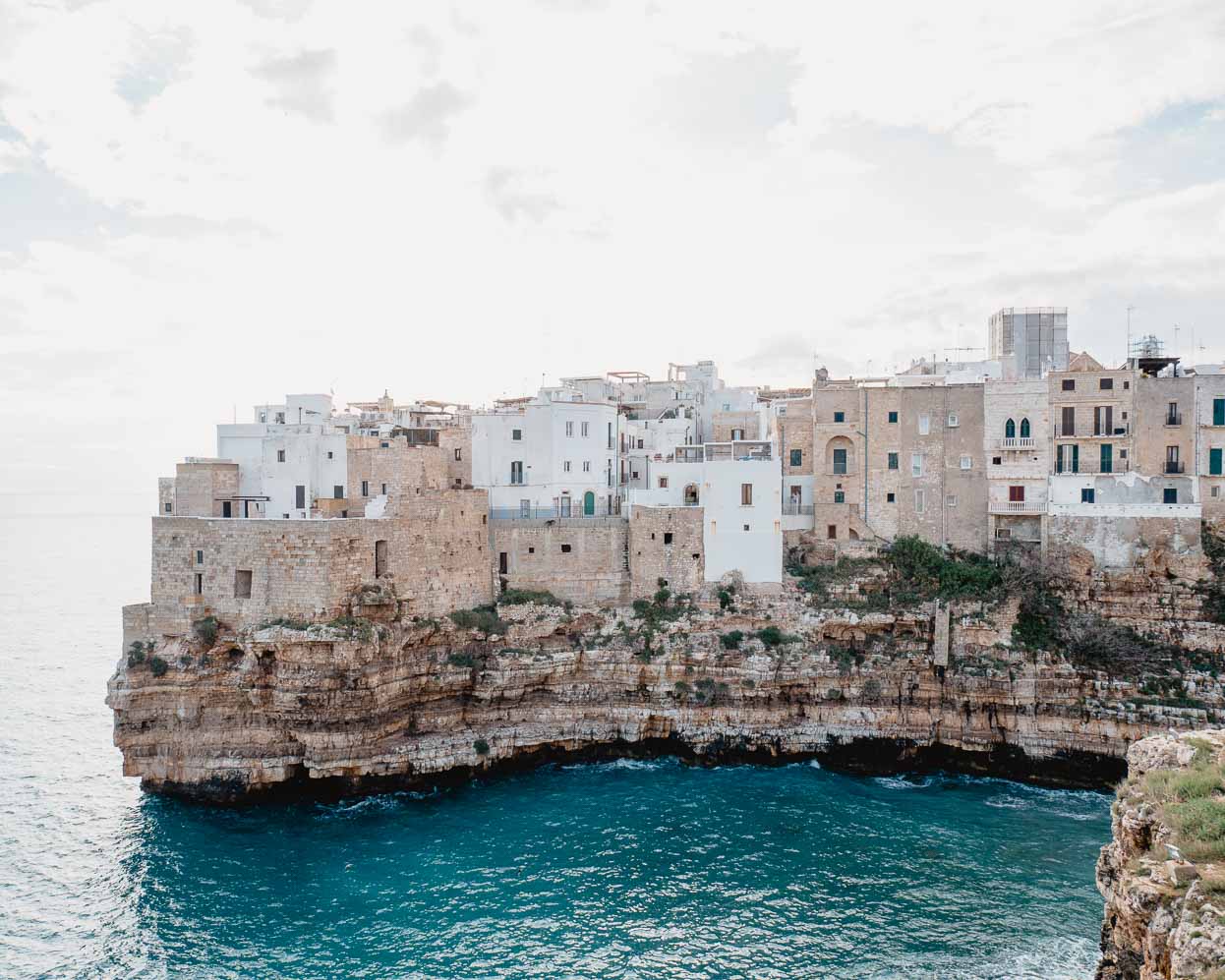 The train that goes through the northern coastal route goes from Foggia, north of Bari, to Lecce. This route passes through Polignano A Mare, Monopoli, Ostuni, and Brindisi.
From this image below, you can already see how easy it would be to move from one Puglia town to another via train. But, who wants to do that when there are so many gorgeous villages in the centre of this region, right?
To get us warmed up for the adventure ahead, Ellie and I decided on an easy train ride to Polignano A Mare. Just three stops away from Bari Centrale. While you can buy your tickets online, we just opted to buy our tickets at the kiosk before heading out. The cost was €2.50/pp. Ticket machines take cash and cards (contactless also, which includes Apple/Google Pay). We did though use the website to look at train/bus timetables between Bari and Locorotondo. After Locorotondo it was a different train/bus company – a different website to look at timetables and for purchase if you choose to go the online buying route.
Note: many regional tickets are just day tickets. The indication is that there's no specific time travel time on the ticket. If this is the case, you will need to validate your ticket on one of the little yellow boxes in front, next to or not far from where you bought your ticket, before you enter the platform or at the platform itself. Unfortunately, I forgot to photograph this machine but a quick Google can help you see what this gadget looks like.
Polignano's station is very small and from the station to the centre, it's about a 10 minute walk.
What to do in Polignano?
Wander through the alley and along the coast. So many stunning views! Also, don't forget to pop in for some local dishes besides more coffee and/or wine. One place our apartment host in Bari recommended was Pescaria. It's a very casual seafood restaurant. You order at the bar and you wait for your number to be called… often in Italian. Luckily Ellie understood because if not, I would have gone hungry that evening from waiting 😂
Locorotondo
My most favourite town that we visited that week. It's whitewashed, old, not so busy with tourist buses and with many charming alleys full of potted plants.
NOTE: the FSE railway line between Polignano and Martina Franca is being renovated and it will be closed until, maybe, the end of 2020. This is on the train line between Bari and Lecce that goes through the towns of Putignano, Alberobello, Locorotondo, Martina Franca, Cesternino, and ends in Lecce.
Until the renovation is finished, there will only be buses operating between Putignano to Martina Franca.
We didn't know about the renovation and that made our bus wait a bit longer. But we figured it out and I shall explain so that this won't happen to you!
There are different routes from Polignano to our next lodging in Locorotondo. You can take the train to Monopoli (it's the same train line that goes from Bari to Lecce) and then switch over to the bus that will take you to Locorotondo. Or, take the train to Fasano (the stop after Monopoli, and take the bus from there.
Ellie and I decided to do the Fasano route because we couldn't figure out where the bus stop is in Monopoli. If it's just outside the station or a ten minutes walk away (Google Maps and Google searching in general didn't help us). For Fasano, I thought I knew where the bus station was to take us to Locorotondo but I was wrong. Luckily our bus drive that took us from the Fasano station to the centre was very kind and helped us!
So here's the way to do it…
Fasano's train station is actually outside of the city. But no worries! There is a shuttle bus that goes from the station to the city. There is no shuttle schedule and I think the city just makes sure that there is just always a bus ready each time a train comes in. The ride is less than 10 minutes.
NOTE: while you can buy a bus ticket on the bus, it is cheaper to buy from a tabacchi (tobacco shop), petrol station and some other kind of shop that are authorised to sell bus tickets.
Conveniently there a shop right across from the station. Unfortunately for us, their ticketing machine was down that day and we had to buy a more expensive bus ticket from the driver. I can't remember how much but it was about as much as our ticket from Polignano A Mare to Locorotondo 😜
Take the shuttle from the Fasano train station to its last stop. Once you get out off the bus, turn right and walk towards the Trapani Francesco bike shop (this link will take you to Google Maps). At that bike shop you can buy bus tickets to Locorotondo (and other destinations). After you buy the ticket, walk out the door, cross the street and the bus stop is right there. There is no sign. But somehow everybody knows it's the bus stop for Locorotondo. You can ask the shop keeper to confirm and the bus came right when it was supposed to.
The ride to Locorotondo is pretty and if you are lodging in the centre, you want to stop at the Martina Franca – Via Cisternino stop. From here it's just an easy five minutes walk to the centre.
If you are taking the bus to Martina Franca or back to Fasano, remember this stop. You'll need to come back here. The Fasano bus will of course be across the road, in front of the Farmacia.
After checking in to our apartment and freshened up a bit, we decided to visit Alberobello just 8.3 km away, a nine minutes bus ride away. As many of you probably know, this town is a UNESCO Heritage site that's known for its Trulli homes.
Remember the note above about the train stations being renovated? Yea, there is no train in between these two towns, just buses. Despite no train, the easiest place to catch the bus to Alberobello is from the train station and at the station, you can use the ticket machine to buy the bus tickets to Alberobello.
When looking at the train's website, look for the non-bus schedule. This bus will be the one that'll be picking you up from the train station.
Where we got dropped off in Alberobello and later picked-up you can see in the map below. We should have bought our return tickets in Locorotondo but for whatever reason we forgot and had to find tickets in Alberobello. It may have been just that day/week but the ticket machine at the Alberobello train station wasn't working properly. None would finish the transaction. But, we learned that the petrol station next to the bus stop sold bus tickets and so we ended up buying there. There was also a loo.
We didn't stay too long in Alberobello. The centre where the Trulli are located isn't very big and we felt a bit crowded with all the tourists there. I wouldn't not visit. I highly recommend seeing these unique dwellings. At the same time, it felt a bit too busy and we took the 17:52 bus back to Locorotondo.
What to do in Locorotondo?
Just wander the many beautiful alleys, get lost and snap away. Best time is during the golden hours of course but really, anytime will do.
For a fabulous meal, I highly recommend Restaurant U Curdunn. This was also where we rented our fabulous apartment, Dimora U Curdunn, from.
Ostuni
Locorotondo to Ostuni was a bit tricky. Initially, we were supposed to head out around noon to Martina Franca, then catch the train to Ceglie Messapica and from there a bus to Ostuni. But for whatever reason, the wrong time was read for the bus to Ostuni.
There is a frequent enough bus going from Locorotondo to Martina Franca.
There is a frequent enough train from Martina Franca to Ceglie Messapica (and it goes all the way to Lecce).
But there isn't a frequent anything from Ceglie Messapica to Ostuni. I hope you all also noticed the change in public transport service. We will now be looking at STP Brindisi's timetables.
Can you guess our mistake?
The mistake we made when planning our trip was that we didn't notice the military hours used in the schedule. We thought that there is a bus from Ceglie to Ostuni, a 20-minute ride, at 6 o'clock in the evening. So, if we didn't double-check our logistics the night before, we would have been stuck in Ceglie Messapica. Eeek!
Thankfully we found a bus from Martina Franca to Ostuni. Ellie and I were gutted that we couldn't visit Ceglie, we heard and saw many stunning bits of the town, but hey, when relying on public transport, you sometimes have to adjust. So here goes plan B… a 15:10 bus!
Back in Locorotondo… we bought tickets to Martina Franca at a travel agency just around the corner from the bus stop. I asked the lady on where to catch the bus and she said just around the corner. About 15 minutes before the 12:14 bus was to depart, we left the apartment. There was plenty of time still and we stopped at the cashpoint just across the street from the bus stop. 12:20 came and nothing. So I asked the travel agent again and they said yes, right there. We waited another 10 minutes and decided to wait at the cafe next door. We stayed there until about 13:10 and when we walked out, there was a queue of people waiting for the bus.
Ok, what happened? Can anybody guess?
Yup! the 12:14 one didn't have (bus) next to it and the 13:20 did. SO… this basically means that the 12:14 one was from the train station and the 13:20 from our bus stop. UGH!!!!
Lesson learned and if nothing else, at least we got coffee!
Finally, about 13:47 we were in Martina Franca and from where we got dropped off, we had to walk about 10 minutes to the bus stop that would take us to Ostuni. Before heading there though, a quick lunch at the Grand Cafe and bus tickets purchased at El Tabaco Di D'Aria Donato, not far from the Ostuni bus stop.
The bus ride… we had such a giggle on this ride. It was sooo rough and the turns that the bus took was often quite bizarre. The hour felt like forever but we made it to Ostuni! Here we stayed two nights. This way we can relax a bit and also do a bit of laundry. This was the only apartment that we rented that had a washing machine. We were, Ellie especially, travelling light.
We took it easy in Ostuni. The weather had been cold and wet and I got sick the day after I got to Italy. While I did as much as I could, I did spend a lot of time at the apartment resting.
What to do in Ostuni?
Wander through the alleys of course! On a good day, walk pass the car park of of Via Salvatore Tommasi for a picturesque view of the city.
A few places we loved for meals were Spessite, Coffee and More (we ate here twice!), and Osteria Ostuni Bistrot.
Before we know it though, it was time to move on again and this time, Lecce.
Lecce
Since Lecce is on that main northern train line, it was easy to get from Ostuni to Lecce by train.
Like Fasano, Ostuni's train station is a bit out of town and to get there you can either walk (3km or 45min walk) or take the bus. Ellie and I opted for the bus and by this time, we've gotten a hang of the public transport system! We saw a tabacchi next to the restaurant we had dinner at (Osteria Ostuni Bistrot linked above) and walked in there to buy tickets for the bus. I think it was about a €1. Then we asked the lady where the bus stop was and we walked over there to confirm – we went to the one next to the police station on Corso Vittorio Emanuele. All was good!
The next morning we left the apartment and found a cafe just around the corner from the bus stop, Bar Nephenta. A few minutes before our bus was scheduled to arrive, we walked to the stop.
We made it to the station as scheduled, bought our Lecce tickets and off we went.
Of all the towns and cities we visited, Lecce felt like the biggest of them all. Lecce just felt like a proper city while Bari still had an old town feel despite being the capital of Puglia.
What to do in Lecce?
We did a lot of wandering around this city and also a bit of eating and drinking. We found a few yummy restaurants and one of them you have to ring the doorbell to enter. So unique!
Lecce is supposed to be the Florence of the south. It does have a few museums and Roman ruins (which many you can view from outside) if you are into that. Ellie and I aren't so into museums though and we rather wander around the city whilst sampling the local dishes and drinks.
Our trip is coming to and end and last but not least…
Brindisi
A sleepy port city. Still frequented by tourists but still quiet. The old town is cute but also very small.
From Lecce, Brindisi is easy to get to. You just hop on the train and go towards Bari. Lecce, despite being a decent size city, doesn't have an airport. So those visiting the south of Brindisi would fly in and out of this city.
Ellie and I explored the old town that evening and then we went out for a lovely meal, our last meal together. Then early the next day she walked back to the train station and caught the bus to the airport. My flight didn't leave until 8 pm and I spent most of my day cafe hopping.
The bus ride from the station to the airport only took about eight minutes and the bus goes every 30 minutes.
Brindisi airport is about the same size as Bari, small and not busy. One wouldn't need to arrive two hours before the scheduled departure time. Security wasn't long and once you pass through, the gates will be right there. I spent my time on the free wi-fi with a cup of lovely coffee. Even at the airport one can find great tasting coffee. Love Italy this way!
Last Thoughts
Knowing what I know now, I would have most likely done this route: Bari, and a bus to Locorotondo, then bus to Martina Franca and then train to Ceglie Messapica, train to Lecce, train to Ostuni, train to Monopoli, train to Polignano A Mare and then back to Bari to catch the flight back. While it was a nice day to walk around Brindisi, this city didn't really offer a lot to travellers like Ellie and myself. By going the above route, I would be taking advantage of the Bari to Lecce north route and Martina Franca to Lecce southern route train system. If there isn't that railroad construction from Alberobello to Locorotondo, it would have been possible to train from Bari to Locorotondo.
Don't get me wrong though, I loved that we had the experience we had because I am for sure smarter than I was before in navigating the Puglia public transport system and can share the info here with you.
Another reason why I would go back to Bari to fly back is because the flight back from Bari is earlier. I would have arrived at 18:00 ish. The flight from Brindisi got me to Frankfurt Main at around 23:15 and it was too late for me to catch the bus/train back home. My choices were to stay the night at one of the airport hotels (about €60-€100/night) or have somebody pick me up. Driving back wasn't an option since the flight to Bari was from Frankfurt Hahn, an airport that's about 50 min away from Frankfurt Main with no good public transport in between. By going back to Hahn, I could also have easily driven (much cheaper parking at Hahn and less complicated traffic wise).
Anyhow, hope this post can help you plan your Puglia trip. While a car can help you get to more remote areas easier, there is no reason to not visit Puglia if you either don't have a license or don't wish to drive in Italy!